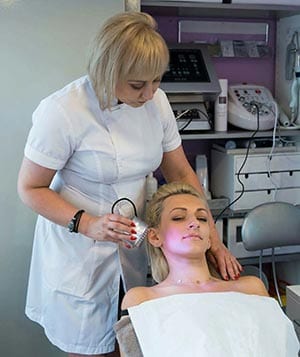 About us:
Beauty salon Alter Ego Beauty Clinic was established in West Bromwich in 2006.
Passion for the profession and development have helped transform Beauty Salon into Beauty Centre and finally in Alter Ego Beauty Clinic.
We combine in a coherent line of classic beauty procedures and aesthetic medicine.
With professional training, we are always on time. A minimum of two times a year the whole team goes through training. We gain new knowledge and skills. [see Photo Gallery of diplomas-link]
We care about the beauty of our customers in all aspects.

Magdalena Zalewska
Graduate of Cosmetology-School of Health Care and Education [http://wszuie.pl/], founder of Alter-Ego Beauty Clinic. Magda constantly raises her qualifications.
Intensive training at Cambridge Medical Aesthetics have resulted in many years of successful cooperation with specialists in cosmetic surgery Cambridge Biotech Ltd.
For several years, Magda also works as Aesthetic Practitioner in two clinics in Cambridgeshire.
Magda specializes in planning your individual skin care programs. Aesthetic medicine is her main passion and direction of the newly launched postgraduate.  In work, casual Magda loves to smile on the face of satisfied patients.
A full range of opportunities to help skin problems is the driving force of Magda.
She approaches her work always seriously. Sometimes too seriously (per unofficial sources.)

Our Achievements and Awards

OMG!  Magda I'm so glad to know you!  The best aesthetic practice I've been ever!
I choose this place as first impression was what I expected- SAFETY and hygienic, welcome ? Now, after first treatment, I'm pretty sure – I'll stay for longer! You can't be disappointed!!
I'd love my eyebrows now – thx
Magda You MADE MY DAY XXX Thank you
This woman… Magdalena… Do amazing stuff! In a 5 min, she took of 10 years from my face!! BIG Thanks Mag!
I have been coming to Magda's practice for years for various treatments. Some of them are truly miraculous! I can say only the best recommendations for both – the place and personally Magda.
She is professional beauty practitioner with the continuous interest to progress in her field I have ever known.
Laser Hair Removal- Thank you – Magdalena – for being so patient and lovely!
Is better than expected!
Thank you so much!
Although I have some experience with lip filling treatments, at Alter Ego Clinic recently was first time.
Now after few days can definitely say – will be back ! Procedure performed was shockingly painless and results.. Amazing!
Is better than expected! Thank you so much!
Would recommend anyone who is daring Biomimetic Nano peptide de Rejuvenation to get it done.
It has made a big difference to me. Wish Magda and the team the best of luck.
Fantastic job-thanks
Magdalena is very welcoming person and treatments are always pleasant and ever so relaxing.
She truly is an expert in her field. I highly recommend her services, as she is a professional through and through.
Magdalena you always do a fantastic job- thanks again!