And here's our offer..
We grouped treatments into categories to facilitate. Simply click on the categories to view details.
Remember that we are working with your skin (in most cases).   And we are flexible – same like it.
Due to the number of possible combinations, which can't be easily described – Please note that pricing is a landmark.
Therefore, if you cannot find a specific item in the price list –  simply call us. Sometimes we make an unusual procedure as well.
If you are not sure which from the treatments is for you – Simply book consultation!
During this visit we will give you diagnosis of your skin, we will review possible solutions and offer care plan-tailored to your needs and possibilities.
It will take 30-45 minutes and in this time, answer all your questions, and if you decide that you do a treatment in our clinic-cost of consultation £20 – will be deducted from its price.

Regular customers may enjoy free consultation and specially prepared offers.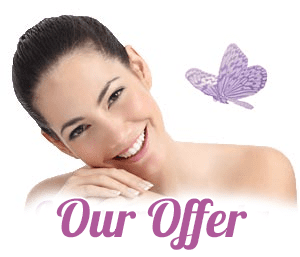 If you see something missing on our offer, simple call, write and as us!
Aesthetic medicine
Electrocoagulation of skin lesions – removal of fibromas, nevi, warts, etc.
45 min of procedure (with local anaesthesia) £55.00
Chemical Peel (face or other areas) a TCA acid 20%-45% £80.00 per session.
TCA acid concentration is chosen individually regarding skin needs.
Filler treatments with pure hyaluronic acid
Areas treated like: folds, lines, lips, cheekbones,
-depending on the amount of material used 1 ml-£165.00
Treatments with hyaluronic acids and some additions (Polyacids, Ca , Sculptra etc.)
are priced like: 1ml- £185.00 i.e.. Tear through area, volumetric injections
Treatments with botulinum toxin Vistabel ,Azzalure – Price depends on the number of zones where botulinum is injected (applies to one visit)
£150.00-one zone (i.e.. the area around the eyes- "Crows feet")
£199.00-2 zones
£250.00-3 zones
Lipolysis -dissolution of fat deposits.
1 ampoule 5ml Where 5ml is enough to reduce body fat from area like "double chin" £130.00
Larger body areas (love handles, buttocks) require more products injected – the price increases by £55 with any another ampoule 5ml. Maximum amount you can get is 25ml of product per single session.
Plasma Lift
Non -surgical procedure using advanced technique- plasma to correct skin aging and improve appearance of many problems ie "hooded eyes" £150.00
Returning clients have advantage of loyalty offers.
Dear clients: For treatments from aesthetic medicine we approach with special attention, each procedure before a careful consultation. We pay attention to the expectations of patients and assess the possibility of meeting these expectations before we perform the procedure.
Mesotherapy, PRP therapy, Vitamin shots and IV drips
Facials with use of mixtures injected, determined by skin conditions
(numbing cream included), priced per area, where 1 area ea. Face.
Other areas to perform mesotherapy are: neck, decollate, hands.
Mesotherapy with single ingredient ea. Vit C, ha acid, peptides – Price £55
Mesotherapy with PRP – procedure of application of platelet rich plasma on to special
area to re-heal it. Ex. Hair regrow in bold places       price £85.00   per treatment.                           
Mesotherapy with cocktail-ampoule with mixed ingredients determined advanced problem solution. – Price £85
As the best result with mesotherapy you can achieve after a multi session.
We are using only the best quality products for our clients.
Vampire facelift – a procedure of face injections with platelet-rich plasma (PRP),    recovered from the client's own blood. 
Facial treatment price £150.00     Treatment including face, neck, and price £199.00 
Vitamin injections – vitamin injection procedure (selected during consultation)
Available options for wit. B12, Vitamin D, Biotin, Vitamin C
1 injection – price £25.00          course of 5 injections £99.00
Vitamin drips – intravenous supplementation of selected cocktails with vitamins,
Price includes basic 100ml vitamin cocktail with giving it.                from £99.00 –
 depending on the quantity and add-ons in the selected package.
Facials -skin care treatments
Treatments performed with us are a minimum of 45min of strict skin care,
always using the best quality products.
Bespoke treatment selected during consultation £50.00
Treatment with Mandelic acid £45.00
Face cleaning (manual) £50.00
Cavitation Peel (ultrasound) £45.00
Diamond microdermabrasion £49.00
Neoderma light £47.00
Bio lifting treatment with microcurrents (face, neck, neckline) £42.00
Thalion Energy & Radiance £50.00
Thalion absolute Youth £55.00
Plasma treatment non-surgical lift using plasma pen £85.00
For regular customers, who use treatments many times we have a special offer of treatment subscriptions adapted individually to the needs of the skin and the capabilities and requirements of customers. For regular customers we offer 6 or 12 monthly subscriptions with special, attractive prices.
Example annual plan:
Series of 4 photo rejuvenation treatments for face and neck skin (worth £340)
Series of 6 cavitation treatments (value £270)
A series of 6 eyebrow and eyelash care treatments (worth £120)
Consultation and selection of beauty products with samples (value £30)
Total treatments value £760
Our offer: £599
where the first visit cost £169 and the next 11 instalments are £39.09 per month!
Ask for offer tailored for you!
Laser therapy prices
The cure and stimulation of laser light beam.
Test for skin light sensitivity and photo type of skin set up,
necessary before any laser treatment £20.00
Photo rejuvenation of skin
Area for face and neck £85.00
Area for face, neck, decolette and hands £99.00
Laser Acne treatment for face £65.00
Rosacea and capillaries treatment £85.00
Piercing (earrings included)
Made by piercing gun
Both ears £ 30.00
nostril £ 20.00 (single)
Body piercing made by piercing needle
eyebrow, nose, beard, lips, belly button or ear parts £ 30.00
Micro dermal, implant £ 45.00
implant removal (local anaesthetic included) £ 25.00
We use only safe and sterile jewellery – kind you can choose before treatment.
We will give you aftercare product and advice at the end.
Hopi Ear Candling
Ear Candling Treatment £ 25.00
Basic treatments-Beauty touch
Eyebrow tint and shape and eyelash tint set. £20.00
There is a possibility exchange eyelash tint to upper lip wax.
No separate services within.
Warm wax services
Face £20.00
Arms £20.00
Full legs £30.00
Chest or back price started from £30.00
Consultation only
Consultation only- check skin condition, bespoke treatments, advice regarding selfcare.
No services at present £20.00


* Alter Ego Beauty Clinic- Terms and Conditions for download in the page footer.