Skin care, or how you care so you have!
Do you know what type of skin you have?  Part 2.
As promised, today's article is a continuation of the previous one. So today we will look at not only the types and specific types of complexions that are common.
For the reminder today, we will discuss the main features and methods of skin care of types:
sensitive
vascular
dehydrated
Sensitive skin
Sensitivity is a general term that defines changes that are the sum of the effects of many factors.
It is often found in women whose skin reactions depend on the monthly cycle and the emotional state.
The sensitivity of the skin begins with a feeling of burning, tingling, pinching, pulling the tendency to reddening under the influence of emotions, alcohol or climatic factors.
Erythema, telangiectasia, swelling and dryness, is more likely to occur in people with seborrhoea dermatitis than those with allergies.
This type of skin is associated with a misaligned leather to pollute the environment with toxins, it is associated with abnormal care, i.e.. The use of cosmetics with a high degree of activity (creams with retinol).
Awareness has natural and artificial solar radiation (tanning), more than half of the population finds at home sensitivity and skin hypersensitivity.
The skin of any type can be sensitive.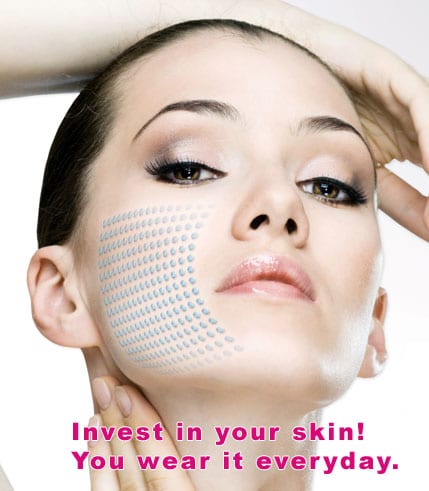 How to nurture a sensitive complexion?
Cosmetics must rebuild the lipid barrier of the epidermis, seal the intercellular cement (ceramides, squalene, cholesterol, sterols, EFAs), PTS.
You should avoid facial cleansing agents strongly foaming with antioxidants to the beneficial effects they have: wit. E ' flavonoids obtained from green tea, ginkgo, soy, ginseng, Glee Royale, spirulina, vitamin A, E, wheat germ oil.
Well-tolerated are filmgoing substances, polysaccharides: Hyaluronic Acid, Chitosan, EFAs: of Primrose, borage, almonds, blackcurrants, avocados, sprouts, wheat seeds.
Use SPF 50 UV filters all year round, are recommended natural (mineral) filters containing: titanium dioxide, zinc, mica.
Temporary use of the so-called Immunomodulatory Cosmetics-preparations is recommended.
Immunomodulatory Cosmetics-Restore balance in the functioning of the immune system, contain: IMMUCEL-Echinacea Purple (Echinacea), Glucan-polysaccharide
ELHIBIN-compound obtained from plant extracts with protease inhibitors- It significantly reduces the symptoms of irritation. Likewise, oils are obtained m.in. of cod and shark liver, flaxseed flax and rapeseed.
Green algae peptides-block substances that transmit information in the skin responsible for the invocation of irritation and sensitivity.

Did you know.. Improperly conducted sensitive skin, neglected care, can lead to a serious dermatological problem. The cosmetic intolerance syndrome is an indication of the symptoms associated with sensitive skin, i.e. burning, swelling, pain and discomfort. Increased symptoms of this syndrome include "Cosmeticus Status", which is the intolerance of any cosmetics. The occurrence of "cosmeticus status" favours AZS and dry skin. It is accompanied by usually allergic contact dermatitis, photo allergy, contact urticaria, lesions like rosacea, ie. Erythema, seborrhoea, exfoliation, burning, pruritus.
 Vascular / Capillary skin
Is mostly shallow with an abundant vascular network with a high degree of blood vascular filling.
The main feature is the fragility of the vessels affect both women and men – mainly East European.
Sometimes it is hereditary.
There is no way to get rid of the tendency to dilate blood vessels.
Care of vascular skin
Use mild cosmetics.
Cosmetics should contain soothing, soothing and sealing components of blood vessel walls, i.e. Chestnut, ivy, Allantoin, Panthenol, Arnica, silicon, algae, chamomile, sunflower oil, wheat germ, honey, vitamin C, K, E, P, bioflavonoids, routine, cucumber, rose tree extract, geranium.
Apply creams with UVA and UVB filters (preferably sun blockers).
In autumn and winter use creams to protect against cold and drying.
Use a proper diet rich in fruits and vegetables.
Enzyme peeling and nutritional masks can be used.
Try to make makeup with the use of primer, powder (as additional protection).
Twice a year (in spring and autumn) undergo a series of treatments to strengthen the capillaries in the cosmetic surgery.
Give up the vascular closure in the surgery (do not wait until they are very extended!).
Oral preparations strengthening blood vessels can be very helpful (preparations with the contents of the horse chestnut extract, with the contents of the routine or wit. C)
Avoid washing the face with hard, chlorinated water!
Avoid the soaps dyed, scented, with alcohol content avoid the sun and solarium and sauna!
Avoid hot drinks, spicy and hot food, alcohol, coffee!
Avoid sudden temperature changes!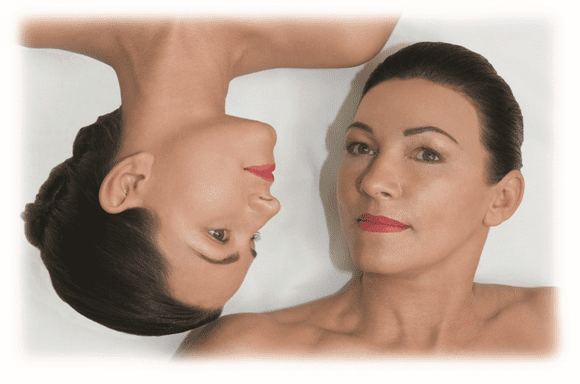 Dehydrated complexion
 Dehydrated complexion is a skin free of water in the epidermis, having a damaged epidermal barrier. This type of skin is very common nowadays, most of which we call ourselves…
A horn layer is damaged, resulting in many factors:
inappropriate care for aggressive alcohol preparations,
excessive skin degreasing,
too frequent cleansing,
anti-acne medications,
excessively strong mating creams,
inappropriate amount of liquid consumed (water!),
air conditioning,
low temperatures,
sunbathing in the sun and in the solarium,
cigarette smoking, drinking coffee and alcohol…
Remember! Skin dehydration leads to premature wrinkle formation!!!
Dehydrated Skin Care Recommendations:
Use highly moisturizing products (with a prolonged moisturizing period).
In cosmetics look for the NMF (Natural Moisture Factor) component to use the so-called. "Moisturizing from the inside" means dietary supplements containing omega-to maintain the protective barrier of the epidermis, reinforcing the lipid mantle, do not allow the skin to pair too hard and thus to lose water.
Drink plenty of mineral water – a lot or optimally 2l per day. Remember that the water demand is large, and the skin is the body to which the water gets at the end. So only when you regularly drink about 10 glasses of water a day, we can talk about enough water to reach the skin.
Do not use cosmetics that are intended for dry skin – they may not only help or even harm you.
Dehydrated skin is not always dry skin.
Knowing the principles of care, but also the current state of your skin is the basis of good appearance. Many of us are lost in opportunities and mistakenly choose cosmetic products-and this is one step to the problems with complexion. At that moment, most patients get to us. And if so the opposite… If you were not to risk with your own face and instead of testing cosmetics, first find out what we need? Wouldn't it be better?
For those who have not used the services of beauty salons is a clue. Visiting the clinic, consulting with cosmetologist is a valuable experience. We often help to avoid many problems that are related to home care complexions. This is what we are ?