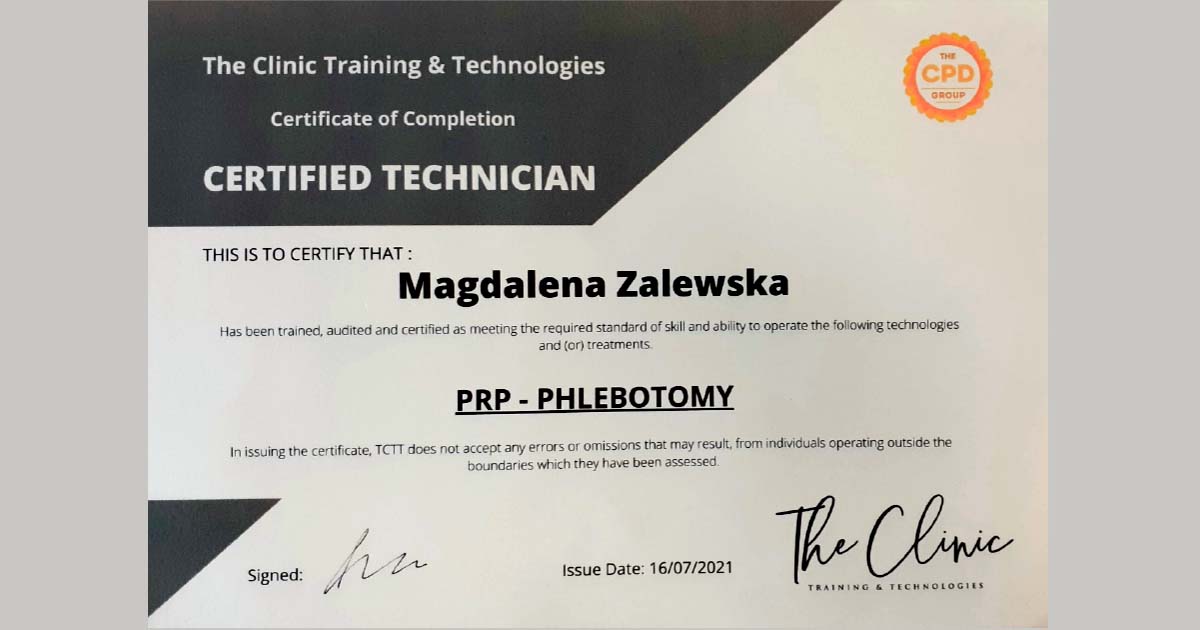 In offer at Alter Ego Beauty Clinic Treatment with Platelet Rich Plasma – challenge for other treatments
❀ What is the treatment with platelet-rich plasma – PRP?
o PRP (Platelet Rich Plasma) – it is a modern rejuvenating skin procedure, which uses the potential of your own body to rebuild tissues. An autologous preparation rich in growth factors, causes the formation of new collagen structures.
❀ Why is the treatment so unique?
o Platelet-rich plasma abounds in growth factors, which, when administered to the patient's skin, stimulate restorative and regenerating processes. Thanks to its regenerative properties, stimulation of the production of new collagen and elastin, the treatment improves the tension, elasticity and firmness of the skin. Growth factors contained in the preparation strongly stimulate cell metabolism and the construction of new intercellular connections. In addition, they rebuild blood vessels damaged in the aging process. Administration of such a perfectly "tailored" preparation to the patient causes a wide range of consecutive reactions. Therapy clearly improves microcirculation, and thus the blood supply to the skin – an indication for the treatment of difficult-to-heal wounds.
❀ How does the procedure work?
o The procedure consists in taking a small amount of blood from the patient and then preparing a platelet-rich plasma from it. The resulting preparation is injected into the skin of the face, neck, hands or other areas requiring revitalization.
❀ Is the procedure safe?
Definitely yes. PRP is an autologous material (our own tissue), which guarantees high safety and eliminates the occurrence of any side effects. Due to these properties, the procedure does not create immune reactions and is not associated with the risk of an allergic reaction.
❀ Who is recommended to treat with platelet-rich plasma?
Treatment with platelet-rich plasma is a great idea to rejuvenate the skin, but also to solve many of its problems.
After a few weeks after the procedure, there is a clear shallowing of wrinkles of the face, décolleté and neck. There is a clear improvement in the oval of the face. The treatment is also indicated for the treatment of stretch marks and scars. Studies have shown high efficiency in the treatment of baldness and hair loss.
❀ How quickly can I get back to my daily duties?
o Administration of PRP is not painful, and patients immediately after treatment return to their daily activities.
❀ How long does the effect last?
o Immediately after administration of the preparation, natural restoration processes begin to take place in the skin. The long-term effect may thus be a consequence of the continuous process of tissue bio stimulation. Usually, for optimal results, we recommend performing 3 treatments at monthly intervals. To maintain the effects, treatments are recommended every 12 months.
Others have read as well: